June 30, 2005
The Power of Myth
I was luckily able to get into a class this summer semester. I am now enrolled in ENG-204, Mythology. I figured it was about time to stray from my geeky classes and start to check off some the the gen ed requirements on my academic progress report. This class will fulfill my "world perspectives" requirement.
One of the texts we are using is The Power of Myth. The book is a conversation between Joseph Campbell and Bill Moyers in which Campbell spills his guts about his life's research into comparative mythology. It's more or less a transcript of the recoded conversation that was aired on PBS in a special of the same name. In fact, the first time i ever heard of it was as an allusion to it on Gilmore Girls where Rory chooses to spend spring break in Florida in her hotel room watching the series rather than hitting the beach. So far, it's been an interesting look at the function and necessity of myths, even in modern society.
Our other book is a giant compendium of myth stories from all over the world. It really is fascinating seeing so many of the same images and themes being repeated in so many different cultures. These are the building blocks we would try to use on our improv team to create interesting scenes. It should be fun to reexamine those and add some new ones to the repertoire.
Posted by Matthew at
09:59 PM
|
Comments (0)
June 29, 2005
Summer vacation
I've just begun a short summer vacation from work. Yesterday, i decided to take the rest of the week off. In addition, we are closed next week Monday and Tuesday for the holiday. That means i don't have to go back until next Wednesday. Since this was all last minute, i don't really have anything planned. I just needed some time to recharge my brain.
Posted by Matthew at
12:12 PM
|
Comments (0)
June 25, 2005
Apple Store Woodland Grand Opening
I got out of bed early today to head over to Woodland Mall in time for the Apple Store grand opening. I arrived around 8:30 and there were 60 or so people already sitting on the floor behind the stanchions (i hate that word). I brought along some puzzles to pass the time. As more began to gather, it turned into an interesting group. There were a lot of folks running around with their digital cameras grabbing shots of the line (see Flickr). People were also sharing stories of their first Mac or talking about the other store openings they had been to. There were plenty of patrons to keep the Starbucks busy.
When the doors opened at 10:00, the employees had formed a cheering, high-fiving aisle just inside the store. They eventually dispersed; however it was quite easy to pick them out of the crowd. Not only where they each sporting their Mac-black t-shirts and name card lanyards, but they also seemed to be surrounded by a certain rock-star geek-chic Mac-user aura. They were very friendly and generous when dispensing advice.
I spent about thirty minutes there before i figured i should probably leave so they could let other visitors in. On my way out, i was handed my free t-shirt. The complementary apparel was contained in an unusual folding box which fascinated me more than the shirt. On the front of the shirt is the Apple logo followed by "Woodland." On the back, "designed by Apple in California" is printed just below the collar. I'd say it was worth the wait.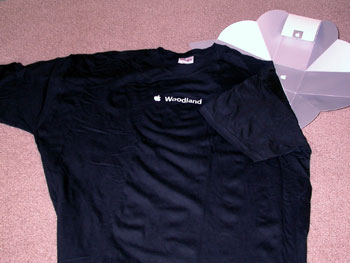 Posted by Matthew at
09:39 PM
|
Comments (2)
June 24, 2005
Forklifts in the land of make-believe
Today on Mr. Rogers' Neighborhood, they were driving around a forklift in the land of make-believe. The show happens to be on while i'm getting ready for work. If you have been following along this week as i have, you would know that it's been raining cereal for some unknown reason in the land of make-believe. King Friday ordered it to be boxed up to get it out of the way, but they just wound up with a lot of cereal boxes every where. In comes Jim Neighbor driving a Clark lift truck to get rid of the boxes.
I suppose working for a company that sells parts for forklifts has made me unusually aware of the the lift trucks around me. Our company is a part of the material handling industry. It's easy to overlook how omnipresent this industry is. They get things were they need to go. Chances are most items in your home have spent some time on the forks of a lift truck. Chances are also pretty good that some part on that lift truck came from Rapidparts.
Wait, are you still laughing at me for watching Mr Rogers' Neighborhood? There aren't nearly as many options on the telly ever since i started getting to work at 7:00. Plus, i still find those "picture picture" movies of how they make stuff to be quote fascinating. My all-time favorite was the one with the crayons. Luckily, you can watch it online.
Posted by Matthew at
09:36 PM
|
Comments (0)
June 22, 2005
Let me explain it to you
My professor says its a shame that i'm not planning to be a teacher because she says i explain things well. I have to disagree with her. Explaining things is hard work and i have to be sufficiently motivated to even attempt it. Generally, i'll only take the time in one of two cases.
The first case being that i have a reasonable expectation of learning something in return from the person i'm interacting with. For example, discussing work with a peer who can provide critical feedback. In these cases i'm often explaining something to make sure i fully understand it in my own head. If i know the person to be competent and they are not understanding what i'm trying to say, it's probably my fault.
The second situation in which i find myself taking extra time to explain things is when the other person is a hot chick. I know, i know, big surprise, right? But i believe one of the enduring fictional relationship archetypes continues to be when popular girl falls for math nerd because she needs help with her homework and then realizes that deep down he's a nice guy. That's right up there with boy and girl who have been neighbors since kindergarden go to the prom together and get married. Although, that scenario would never work for me because deep down i am an ass, but its fun to get caught up in the fairy tale.
When it comes down too it, i think i'm too selfish to be a good explainer. Maybe someday that will wear off and i might become a teacher, and a good one at that. We will just have to wait to see what happens.
Posted by Matthew at
10:35 PM
|
Comments (1)
June 19, 2005
Father's Day fact
While more phone calls are placed on Mother's Day than almost any other day of the year, it seems Father's Day traditionally sees the highest volume of collect calls (Link).
Posted by Matthew at
11:02 AM
|
Comments (0)
June 18, 2005
Apple Store Woodland opening this month
Being the dork i am, i stopped by Woodland mall just to see how they were coming along with the new Apple Store. Last time i was there they had a big black wall with the Apple logo in front of where the store would be. This time, you could actually see the front facade. They had a sign up saying that they are opening on Saturday June 25th. Looks like the Grand Opening begins at 10:00. The website says they will be giving away T-shirts to the first 1000 guests was well as having a sweepstakes to give away an iMac. I have no choice but to stop by.
Posted by Matthew at
06:10 PM
|
Comments (2)
June 14, 2005
Daily SuDoku
A while ago i came across a Wired article about a type of puzzle that was sweeping across England. It's called a SuDoku and it involves placing numbers on a grid such that no number is repeated in any row, column, or "sector." I found these challenges quite interesting and started playing around with them. If you search at Amazon.co.uk you'll find a bunch of different books containing the puzzles but apparently they still haven't been published on this side of the pond. I did find a site called the Daily Sudoku where you can print out a new one each day if you would like to give it a try.
Posted by Matthew at
07:50 PM
|
Comments (0)
June 11, 2005
A summer engagement
Yesterday, my sister's boyfriend asked her if she would marry him, to which she replied, "are you shitting me?" He denied that he was but she asked again for clarification: "are you shitting me?" Still not convinced, she asked a third time, "are you shitting me?" At this point i believe she had forgotten the original question, so he asked again and she said "yes." My sister is now officially engaged. I'm not shitting you.
Posted by Matthew at
08:23 PM
|
Comments (1)
June 06, 2005
Amazon'S apostrophe problem
Here's another website quirk i came across; this time at Amazon. I first noticed it when they switched over to the new reduced-tab header. I figured it was just a result of the transition and would soon be corrected, but the problem is still there. It has to do with the way things with apostrophes are capitalized. As you can see from the screen shot, they have the "s" after the apostrophes in uppercase, i.e. "Matthew'S" and "Today'S." Turns out the problem on appears in Safari (not in Firefox). Yes, i know i'm running an older version of Safari but i didn't think it would that uncommon. Of all that things to not work right, i was quite surprised by this one. I can only guess it's some weird CSS thing.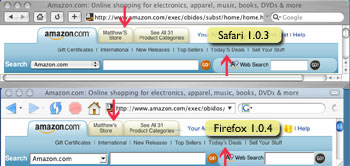 Posted by Matthew at
07:12 PM
|
Comments (1)
The sound of no error clapping
I thought i would check out the Apple Developer Connection website to see if i could find out any additional details about their move to Intel based chips. When i clicked to login, i got the following error message. It seems their idea of error handling is just to deny the error every happened in the first place.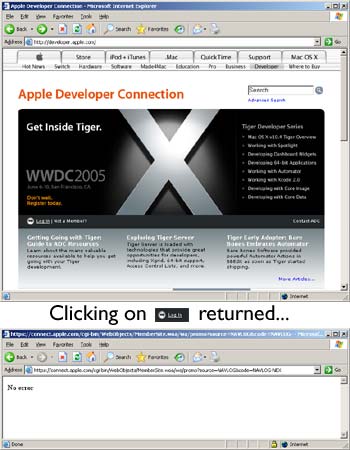 Posted by Matthew at
02:19 PM
|
Comments (2)
June 01, 2005
Student discount
I have several friends who, despite having graduated years ago, still present their frayed and faded college IDs to save a buck on movie tickets. I can't do that. Even though i'm technically still a student, i feel embarrassed to be using the discount and generally don't. Even though i am in school, it seems like i should be done by now. Perhaps it's the same type of experience when you find out you are old enough to qualify for the senior discount; that's can't be a fun thing.
I did, however, make an exception to this rule. I decided to take advantage of the Apple Student Developer program. Here's the deal: a yearly membership costs $99. Membership includes monthly mailings of software updates and technical resources. In addition, you get a one-time-only discount on hardware. Seeing as how i need to get a new machine of my own, the savings will come in handy. It will more than make up for the cost of the program. The folks at Apple even though in a semi-spiffy Tiger t-shirt.
Currently my schedule doesn't allow me a whole lot of time to play around with code at home. I'm hoping that actually shelling out some cash will help motivate me to find the extra time to actually make something fun. A new machine and a DVD full of technical resources might just do the trick.
Posted by Matthew at
07:10 PM
|
Comments (1)