June 25, 2007
Social networking sites
I think the sociology behind social networking sites (SNS) is fascinating. Danah Doyd discussions the various types of relationships formed on these sites in the article Friends, Friendsters, and Top 8: Writing community into being on social network sites and an article called Viewing American class divisions through Facebook and MySpace talks about the differences between two of the most popular SNS.
Posted by Matthew at
11:06 AM
|
Comments (1)
June 21, 2007
Thank you Apple Store
I guess eventually i had to experience the pain of a computer failure firsthand. When I powered up my MacBook, the Apple logo never came up and the screen just stayed white. I made a reservation at the local Genius Bar to see what was wrong. Turns out the hard drive was dead. Luckily i didn't lose anything too important, but I did lose most of the papers and projects i worked on over the last two semesters at GVSU. Happily, the folks at the Apple Store put in a new hard drive and reinstalled the OS for me the same day. The total cost to me was $0 thanks to the AppleCare protection plan. I was very pleased with how they quickly took care of the problem and got the machine up and running again. Now i just need to figure out which Apple Store is closest to Ann Arbor.
Posted by Matthew at
11:20 PM
|
Comments (0)
June 15, 2007
Hello Moto
I now own a cell phone. I have a Razr like everyone else (hey, it was free). Times, they are a changin'.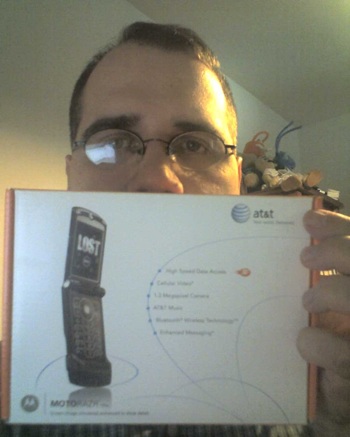 Posted by Matthew at
05:19 PM
|
Comments (1)
June 04, 2007
Almost time for Almost
Almost, Maine opens this week and we've been working very hard to prepare for our first performance with an audience. So far everything has been going very smoothly - including this weekend's tech rehearsals. In fact, i feel a bit spoiled being in the show. Everything has turned out even better than i could have hoped. The rest of the cast have been so great and our director is just great. Our rehearsals have just flown by but it feels like we've done so much.
Opening night is this Thursday June 7 and we have performances through June 23. Check out the Circle Theatre website for ticket information. If you do see the show, be sure to say 'hi.' The actors usually gather in the downstairs lobby after we get out of costume. I hope you are able to come see this delightful comedy.
Posted by Matthew at
02:09 PM
|
Comments (0)