May 21, 2006
Said and Meant world premier
As if i weren't busy enough with school, i've also been busy memorizing lines. I'm appearing in the world premier performance of Said and Meant: 10 Ultra Short Plays About Language and Misunderstanding written by my friend Randy Wyatt. We're doing the first production of it since the play was published by Playscripts. It's being produced by the fine folks of Crawlspace Eviction, the Kalamazoo improv team featuring my former Part Of A Complete Breakfast teammate Dann. The show opens June 1 and we're performing at the Whole Art Theatre in downtown Kalamazoo. Shows are Friday and Saturday at 8:00 pm until Jun 17. Tickets are $12 a pop. The play is really funny and i recommend you check it out.
Posted by Matthew at
10:24 PM
|
Comments (0)
May 18, 2006
You're in for a treat
I just got back from opening night of Urinetown at Spectrum Theatre. It was really nice to finally be able to see the musical i've heard so many times. The show was a lot of fun. The actors really brought the humor to life. The cop's song/rap featured wonderfully amusing choreography. Ashli Roberts was adorable as Little Sally. Cici Grammer's voice sparkles as Hope Gladwell. They really pulled off some of the more touching parts like the Follow Your Heart number.
I dare to say that this show has my favorite overture of any musical i've heard. Most others are just teaser clips of the songs to come and they go on forever. I'm always thinking "just get on with the show already." Urinetown's overture is not just some overly orchestrated version of a song from the show -- at least if it is, i can't match it up. It features two simple, playful melodies that dance on top of each other. It's short, and then it's on with the show. I will say that it sounded much better on the CD than in person though. This production sounded like they were trying some fake echo-y effect, which, while it may make sense for the show, really distorted some of the beautiful music. I, like others, am guilty of just noticing the singing, dancing, and spectacle of a musical, overlooking the songs themselves. When i listen to Urinetown, i'm reminded of how much work goes into the orchestration of the music.
Posted by Matthew at
11:53 PM
|
Comments (0)
May 17, 2006
What was Euclid thinking
I've finally found a math class i don't care for very much. Euclidean geometry just doesn't do it for me. I'm not entirely sure if that is because of the course material or because of the the way the class is set up. First of all, we're not using a textbook. While i suppose it saves me money, i would like to have something as a reference and guide outside of what we learn in class. As a programmer, i learn from looking at sample code. The same holds true for me for learning other subjects as well. There are just so many details in geometry that we just don't have time to go over everything in detail in class. Then we are instructed that we may assume some things and then not others - the distinction between the two isn't clear. In a class know for proofs, we're writing some of the sloppiest proofs i've seen in any match class. I sure hope the rest of the students don't so the same in other math classes because it would never fly.
It is interesting that Euclid built his whole system of geometry based solely on five axioms, or fundamental facts he accepted with out proof. One of which is that all right angles are equal. From a very basic framework, it's amazing to see all the applications mathematicians have found for such a simple idea. Geometry is a discipline that i would expect to be very precise and organized. If it is, i'm not getting that perception in my class.
The other day in class we made some triangles out of uncooked spaghetti and scotch tape. For the whole rest of class you could hear students crunching on the rock hard pasta. I guess that's what happens when you have class around dinner time.
Posted by Matthew at
09:47 PM
|
Comments (0)
May 13, 2006
Photobooth fun
My friend Evangeline got a new MacBook Pro. I helped her move her files over from her old work Dell laptop and her personal ThinkPad. It turned out to be a fairly simple process. I just plugged a standard network cable into each of the machines (normally a cross-over cable would be required but the MacBook Pro has an autosensing network card). I shared the folders on the PC that contained the files to transfer to the Mac. Then i switched over to the Mac to turn on Windows File Sharing under the Sharing System Preferences menu. Then, using Finder, i chose Go...Connect To Server to connect to the share on the Windows machine using the machine name. I was glad i really didn't have to monkey around with network settings or anything.
While her iTunes music library slowly moved over, i started playing around with the machine. As Jack has already seen, Photobooth can be fun to play with.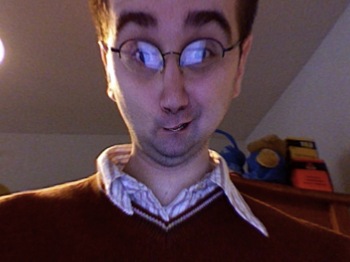 Posted by Matthew at
10:38 PM
|
Comments (0)
May 09, 2006
Summer school
I thought i would have more time to spend with the new material i'm learning in my classes this summer than i did last semester. Boy was i wrong. I guess taking three classes this spring was a bit ambitious, especially considering two of the teachers suggested that it was in the student's best interest not to take any other courses at the same time due to the accelerated pace and corresponding work load. So far this first week i've been in class all day and then i go home and work on my assignments all night. I hope i can make it through these six weeks.
It kind of makes me wonder what summer classes are really all about. Right now it feels as though the school is punishing me -- like GVSU only offers summer classes for those students who weren't smart enough to fit them into their fall and winter schedules. A semester's worth of material is condensed into a six-week cram session. I wonder if someone has researched the retention of material covered in a regular semester versus a summer semester.
My real problem with this is that i hang onto the somewhat romantic idea that someday colleges will embrace a year-round learning philosophy. Instead of two, six-week sessions in the summer, just make it a third semester. Each of the three semesters would have generous breaks in between. That way a degree could be earned in three years (nine semesters). When elementary schools talk about going year-round, i usually hear reasons against it in terms of it would destroy the summer tourism industry or it costs too much to cool the schools from the summer heat. Are these the reasons colleges don't do it? Why leave a campus virtually deserted for months at a time? Do students need to find part time summer work to keep the economy alive, or are they still going back to help the family harvest the crops? If college teachers don't want to work year-round they could just stagger which of the three semesters they take off.
It seems like such a waste to suggest only taking one class during the spring\summer semester. Many of the other folks i have spoken to are taking three classes just like I am. It seems as though there's a disconnect between what the students want and what GVSU offers. I wish i understood their philosophy better or they understood mine.
Posted by Matthew at
11:26 PM
|
Comments (0)
May 04, 2006
In the Chamber
Tonight i volunteered for the Grand Rapids Ballet's In the Chamber fundraising event. I helped to change the stage between pieces. In my chair just off stage left, i could quite see the dancing itself but i saw the shadows. The three side lights on the opposite side of the stage created larger than life silhouettes that flowed across the wall. Each dancer was represented by three shapes, each a differing shade of grey, that would come together or flee apart as the she moved back and forth. Plus, i was so close to the musicians it's like they were playing just for me. The Bach pieces were wonderful.
If you still haven't seen a ballet, you can see Exotica which runs May 12-14 and 19-21. Fore more information you can check out the GR Ballet website (which features a truly annoying javascript resize script).
Posted by Matthew at
11:06 PM
|
Comments (0)
May 03, 2006
Round up the usual .Net tools
I've been trying to document everything i can think of before my departure from Rapidparts. This means i've been spending most of my time using Word and PowerPoint rather than my usual development tools.
I have assembled a helpful set of applications to assist with programming that i will miss once i leave the Windows world behind. At home, it will be just me and my Mac. Of course i'll miss Visual Studio 2005, which makes it so easy to program in C# and the other .NET languages. My next favorite tool would be Fiddler. It's perfect for viewing raw HTTP traffic and think all web developers should have it installed. It's helpful for diagnosing problems involving redirects, correctly streaming files to the client, and watching how other web applications work. The folks at Sysinternals also provide many useful tools for free. My two favorites are FileMon and Process Explorer, both of which have helped to solve pesky "Access Denied" errors and other permissions problems. And i can't forget .Net Reflector which is great for peeking inside the Microsoft .NET classes to see exactly how they work.

Posted by Matthew at
04:24 PM
|
Comments (0)