February 25, 2006
Beautiful show - i'm not a lion
I saw The Lion King today at the Wharton Center. As i expected, it was the most beautiful thing i've ever seen on stage. The costumes were spectacular and engaging. It really was quite a production.
Actually, the show did get off to a rough start. It started ten minutes late, which really wasn't a big deal; but then after the opening number, they actually stopped the show, brought up the house lights, and seated a large party that showed up late. It looked like a group of school kids or something. After such an amazing first song, it really killed the mood to bring the audience back out of it so quickly. I'd never seen anything like that before.
So, other than the annoying interruption, i thought the show was good. That's one more item scratched off on my list of shows i would like to see. According to the signs around the theatre, they will be bringing Wicked to the Wharton in July of 2007. That show is on the list. I'm also looking forward to Actor's local production of Urinetown this May.
Posted by Matthew at
10:09 PM
|
Comments (2)
February 19, 2006
Gift-wrapped matrix
Linear algebra is so much fun because all the numbers are wrapped in those boxes as if they were gifts begging to be opened. Homework is like Christmas day.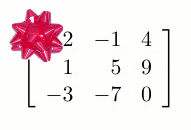 Posted by Matthew at
02:34 PM
|
Comments (2)
February 14, 2006
Nerdy valentines
I couldn't find anything as cool as the Law and Order: SVU valentines or the Avenue Q valentines to hand out, but i think i came out OK. I got these fun Nerds cards with such messages as "here's looking at you Nerd," and "love the Nerd you're with." This is the first time i distributed valentines that required assembly over and above the customary fold and sticker.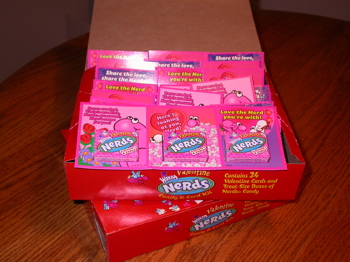 Unfortunately, my these tasty cards would be difficult to send though the mail so i had to find different cards to send to my distant friends. I should state that i got started a bit late this year so i apologize if your special valentine shows up late. If you didn't get one, that either means i didn't have your mailing address or i'm secretly mad at you. If you are the former, you should e-mail your address to me so i can send you stuff. If you're the latter, well, you know how that goes.
Happy Valentine's Day to all my friends.
Posted by Matthew at
08:46 PM
|
Comments (1)
February 07, 2006
Brain sprain
During today's linear algebra test, i sprained by brain. It really hurts to think right now. My temples ache, and i've never been so hungry and so uninterested in eating at the same time. I blame my self. I didn't properly stretch before the workout. I didn't spend a while lot of time going over material and i didn't get a good night's sleep. I was fine up until the last mile: the last part of the last problem. It was just a matter of confusing the variables m and n. Ultimately i think i made one of the most embarrassing mistakes you can make when working with matrices: confusing my columns and rows. Either that or the teacher was really being mean or simply transcribed the problem incorrectly. I'm hoping i can sleep it off and be fully recovered for Thursday's exam covering the lives of the paleoindians.
Posted by Matthew at
07:50 PM
|
Comments (0)
February 01, 2006
My server is developing problems
I've been using Visual Studio 2005 for a while now at work and for the most part enjoy it. I really like the Refactor > Rename feature because i'm constantly renaming my classes until i get them just right. I also thought the ASP.NET local development server (aka Cassini) would be a nice way to quickly test out new code on my local machine. However, this thing that was supposed to make my life easier has made me miserable this past week.
First i was playing around with some URL re-writting to make it easier to link to parts of my application with friendly (Rails-like) URLs. Everything worked great on the test box but when i published to our actual development IIS server, it no longer worked. Actually i was a bit surprised that it had worked on my test box, but i thought maybe it was an ASP.NET 2.0 thing so i wasn't complaining. The problem is that URLs without a file name that don't correspond to an actual physical directory never get routed to ASP.NET and are handled by the default IIS 404 processes. In Cassini (and i think what will be IIS 7) everything seems to go though ASP.NET. I just ended up adding a "/go.aspx" to my link URLs to get things to work properly.
Then, i tried playing around with developing a custom single-sign on HttpModule (not unlike this implementation of TypeKey authentication) that we could use with our custom Appian authentication server. When i tried it out on my local machine, i kept running into weird serialization errors with my custom IIdentity object. I was going nuts. I found out that others were having the same problem and that it was Cassini itself that was to blame. Sure enough, i published to IIS and everything was fine.
I've given up on the default local development server and instead use the local IIS option. It's a bit more of a hassle with permissions and all that but at least there should be fewer surprises when i go to publish.
Posted by Matthew at
11:11 PM
|
Comments (0)